The more time I spend with the Fiiish people, the more it messes with my head
The actual fishing was huge fun but hardly epic, as in were struggling for time and weather from the off. The first afternoon we headed out of a place called Audierne and fished around an area I have wanted to do so ever since I laid eyes on the tide rip there a few years back, the awe inspiring Pointe du Raz. Bearing in mind that it wasn't a big tide, holy frigging cow the water moving through there was incredible. We smashed a bunch of pollack and the Spanish lads had a couple of smallish bass, but more important to me was the chance to get to fish the Fiiish Crazy Sandeel alongside the bloke who invented it.
I have a lot to learn about this lure, and especially when the designer just grins and says that yes, they tend to catch more fish on the "Le Crazy" over the Black Minnow - and from the boat Matt is tending to fish the Crazy Sandeel with a faster kind of sink and draw. Fast on the up with a long kind of "strip" to get that body really moving, and then a bit of a slower, more controlled drop - and as with the sink and draw method, this is when the fish are hitting the lure. And they smash it!! I understand the reasons for the non-weedless design, but because I am predominantly a shore angler, I would kill for a weedless option. My arguments for a weedless option have been logged..........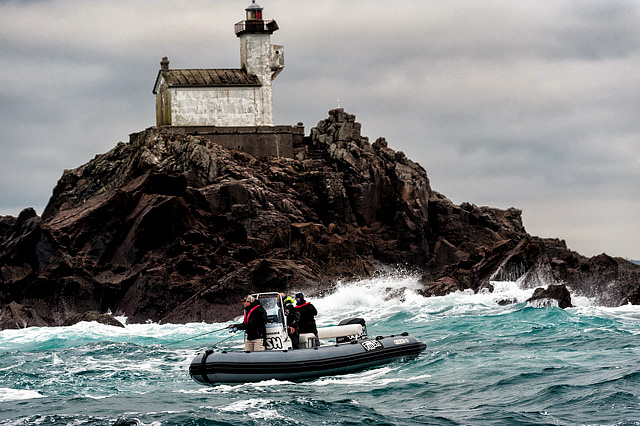 On Monday the wind was really starting to pump from the north, so the Fiiish lads took us a little further south to an area called l'Archipel des Glenan, a set of small islands that I imagine would be great to visit in summer when the sun is out and it isn't peeing down with rain. It lent a certain je ne sais quoi to the day when you know that a few months back, Matt caught a bass around here that he put at somewhere in the region of 18-22lbs, and yes, it came on his Crazy Sandeel - the 220 size. We tucked away for a part of the day and just smashed wrasse on Le Crazy as the French lads call it, and then as the wind really started to pick up properly we bounced around a bit on the hunt for bass. Nope, nothing of any great size, but I do little boat fishing these days and I can't help but enjoy being out at sea on these RIBs in conditions that I know most people simply would not fish back home.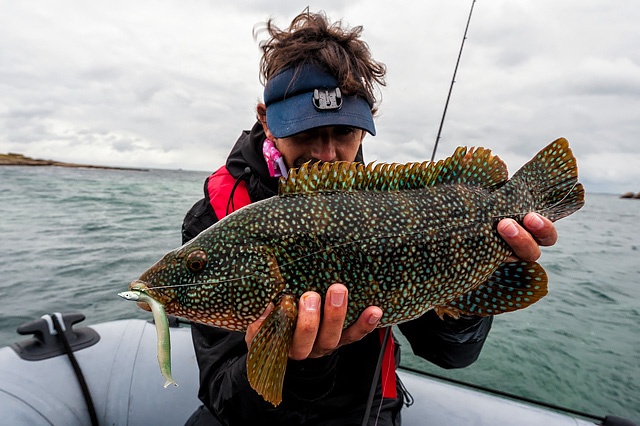 The journey back to port was somewhat interesting - punching straight into what I reckon was a force 6 gusting 7 N/NE, with me (stupidly?) taking the side of the boat that took the most water right in my face!! Perhaps forty minutes of holding on for dear life and blinking rapidly to try and get the saltwater out of my eyes so that I could brace myself for the next big wave that wanted to have a direct course at my face. Being out on the boats with Matt and Jeremy from Fiiish I have to say inspires complete confidence in me, but for those of us who don't do much of this, wow you feel it in the shoulders the next day.
Aside from the fishing though, it's spending time talking with Matt especially that fries my brain to a mess. The ideas this guy has and the prototypes that he is working on as regards fishing lures is quite something, and I know that for all my love for lure fishing, I simply don't have it in me to come up with this sort of stuff. Matt is very quiet and unassuming, with a wicked sense of humour when you get to know him, and he is not in the least bit arrogant or big-headed about what he and the Fiiish people have achieved - but I would guess that the pride he feels at anglers like us catching fish on products that he designed must be pretty immense.
Aside from some of the new stuff that Fiiish will launch next year, Matt was sharing with me some of his ideas and prototypes for potential future laws, and one in particular has been giving me sleepless nights here in France. If I get where he is coming from with it and how and where we could potentially fish with it, then understand why I gave serious consideration to bopping him over the head and running off with his prototypes!! I consider myself incredibly lucky that through the course of my work I get to spend time with people like Matt and indeed the entire Fiiish team, and I can't believe how the world of (sea) bass fishing has opened up so much to me since those days when I thought they were some rather annoying fish that used to pick up my ray and cod baits sometimes.
Around the Fiiish offices this week are a bunch of lads from Spain, Portugal, Italy and the UK. I have learnt a whole lot of stuff about bass fishing from the shore in the northern part of Portugal especially - big, big seas, a brutal coastline, long lure rods, and big, 170mm+ minnows especially. I am going to do all I can to head down there and see/photograph some of this fishing. And as for the fishing down in south east Spain? Mind-boggling at times. Dentex, amberjack, bluefin tuna, bluefish, garrick etc. Oh, and some monster corvina (kob to me) in the southern part of Portugal. I love where I live and I love the fishing we do, but the way I am made means I can't do the same thing all the time in the same places - I love the chances I get to spend time with other anglers and fishing tackle related people from other parts of the world. Anyway, I am heading back home later today. Have as good weekend and I'll catch up next week.........